Small Group Tours Where the Guide Hops off at All Stops:
See it all in NYC:
Get out of the shuttle and see all of the following attractions on our NY See It All! Tour:
Take THE Highest Rated Tour in NYC!
T
he NY See It All! Tour from OnBoard Tours has been the
highest-rated bus tour
in NYC for the past three years on both TripAdvisor and Viator. OnBoard is also a multiple-time nominee and winner of the NY Concierge Choice Award.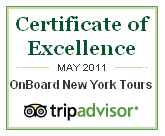 Our tours will also save you precious hours of your vacation by preventing you from waiting in long lines. We will whisk you around Manhattan in a super-efficient format to make sure you maximize your time in the City.
The NY See It All! Tour is the best tour in NYC because:
Tour Guide Hops Off With You!

Tour includes a Yacht Cruise (a $27 value)

Tour includes short guided walks to see attractions

We take all the stress out of touring NYC

Save Time & Money getting around New York City

Vehicles are climate controlled

Soft padded seats (not hard plastic)

Free bottled water is included
Take the NY See It All! Tour Today!
Looking for something more intimate? Find out about our Private Tours!
Book Your Private Tour Today!
OnBoard Private Sightseeing Tours

Did you know that we also offer private tours? Whether you'd like a private van tour for your group, private walking tour, or a VIP tour in a luxury SUV or limo (or even a helicopter) OnBoard Tours can help. You choose the pick-up location, itinerary and start time. We'll provide you with a licensed tour guide and comfortable climate controlled transportation. And remember, if you see something you like on your tour…just yell STOP! Our Tour Guides and drivers are ready to change on a dime per your requests.

Just call one of our Travel Concierges to book your own private VIP or group tour today at: 212-852-4821
Why Choose OnBoard
Coming to NYC? Thinking about taking a tour? Find out why OnBoard Tours is the right choice for you.


This Week's Featured New York City Tour:
Take the NY See The BEST Tour and save time and money while seeing the very best attractions in NYC.
Read More
Top 14 NYC Attractions
Subscribe to become an OnBoard Insider today and receive our FREE REPORT: Top 14 Awesome Sites Most NYC Visitors Miss!




Scroll Over Images For Tour Information
Helicopter Tours

Get an aerial view of NYC - call 212.852.4821 to book today!

Looking For Broadway Tickets

Get great deals on Broadway shows by calling 212.852.4821

Private Tours

See NYC your way! Call 212.852.4821 to plan your private tour experience today!

In Town For A Conference?

Find out how we can help you make the most of your time - call 212.852.4821.
We Remember.Pay tribute to those who lost their lives on 9/11 with the NYC Freedom Tour.