Here are some comments from our customers:
The Flemings from Dallas said:
[We] wanted to thank you and give our compliments on a great tour today. We had an excellent time and really appreciate you taking care of us.
OBT did a great job. Everyone was very nice and took care of us. It was first rate. The tour was well-designed, very informative, professional and a lot of fun for us and the kids. This is a FANTASTIC way to see the whole city, especially for any first-timers visiting the city. I overheard compliments from other passengers regarding the tour as well.
I also wanted to tell you how great our tour guide Edwin is. He really did a fabulous job. He was very good with the kids and completely connected with Kalin and Drew. My highest compliments to him – he was excellent.
Thank you again!
---
Jim & MaryAnn From South Carolina were "SO GLAD" they took this tour!
The Newman Family from Kansas said it was the best tour they've ever taken.
They loved the Statue of Liberty, the World Trade Center site, and the input of their tour guide. Watch it yourself:
Bill & Echo from Arizona loved the tour and said it was exactly the right length:
Aaron & Crystal from Minnesota said they saw many more attractions than they would have without the tour:
Smokey & Yokey give their thoughts about the tour:
Alan Bontorno from Elmira, NY, wrote:
Doug, our tour guide, was the best, onThursday July 14. As your ad suggests I arrived a tourist and left a local with understanding of not just logistics and history but a feeling of who New Yorkers are, how the City works and insight as to how Sept. 11, 2001 felt as your -in the City at the time- New Yorker guide described the infamous day. Thanks for hiring such good people as Doug, and Elvis the driver who got us safely around town.
Ms. Barbara from Pennsylvania and her friends who took the 12:30 tour on Saturday June 26 with Matt and Chelsea said they were both wonderful and she would recommend our tour anytime.
These fine ladies from Canada loved the tour:
Milton Rogers wrote:
I took the 10:00 AM "NY See It All!" tour from 7th Avenue Saturday, February 20th. What a great experience! Joey is the world's greatest tour guide. His knowledge of the facts and statistics — beyond your required presentation –; his unfailing ability  to answer all our extra questions; his clear, understandable, well-projected voice; and his unflagging enthusiasm and good humor deserve recognition. Joey was a pleasure to me and an asset to your firm. Please tell him I said so.
This family from England had a great time, and really enjoyed the boat cruise:
Diana from West Monroe, Louisiana said:
Wow! That's all I can say about the NY See It All Tour that my friends and I took on January 16, 2010. Our guide was Randy Powell. He was very knowledgeable about the history of NYC as well as current events and the architecture of the city. His stories were enthralling. We visited many sites that were on our list of "things to do". I can't believe we were able to do so much in that one tour. It is really a fantastic value. Not to mention the convenience of being driven right to the front door of each location. I will recommend this to all of my friends that plan a trip to NYC. Great job!
John from Toronto loved the tour:
Sheena Horton wrote this regarding her tour on January 2, 2010:
What a great tour. Nothing was to much trouble for our guide Dave who was very informative and helpful for the duration of the tour. His uncanny resemblance to Robert Di Nero added to the experience. Forget the double decker buses and see New York in comfort and style. Thanks David and Onboard Tours! Best Regards, Sheena Horton
Kathy H. wrote:
HI,, just returned from a New York trip and did the tour with your company. "Duck Boy" was our tour guide,, and did a wonderful job.. Please let him know that we thought his tip on "Johns' Pizza" was the best!! .. Thanks!!
Jim & Barbara from Florida thought the tour was fantastic and recommend it to others:
Becky from England wrote: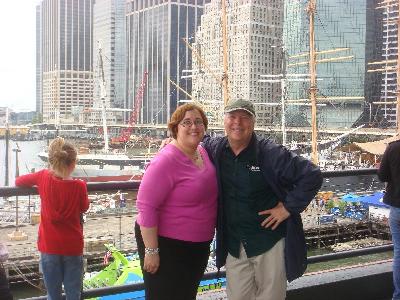 I wanted to email and give my thanks to Tom and Vicky for making my tour with you in NYC on Sunday 21st June so enjoyable and informative! Tom was so friendly and knowledgeable and it was a real pleasure to be in his company for those few hours. Vicky was also very and always had a smile for us :-)
I won't hesitate to recommend you to friends and family if and when they cross the pond and visit New York in future.
I'm attaching a photograph of Tom and I which was taken when we stopped off for lunch on the tour. I'm sure he'll remember my face as I was the last person back on the bus at every stop we made!
Thanks again. It was such a highlight of my holiday and we took Tom's advice and went to see a film at Bryant Park on the Monday night before we left to return home to England. We wouldn't have known about it if he hadn't said about it on the tour!
Stacy, originally from Plano, wrote:
The tour was terrific! Joel was a great guide. We all had a wonderful time. Thanks again! Merry Christmas!!
The Ryan Family from Ireland wrote on September 9:
We, the Ryan family from Cork, Ireland took this tour on Tuesday last 2nd Sept. 2009. Our guide was Matthew & driver was K. Matthew was brilliant, entertaining, informative and amusing. He was also very kind & considerate to a young girl whose friend never showed for the trip. He made sure she was included & looked after her during the day. He was most helpful with taking photos of all groups and made the tour a perfect start to our New York adventure, we could not speak highly enough of him. The bus was comfortable, air conditioned & plenty water to drink on what was quite a warm day. We would highly recommend this tour. Kind regards to him & K.
The Ryan family, Cork. Ireland.
Jim & Linda from Arizona loved the tour:
Link to a Customer's website
Here's a link to one of our customer's blogs where he writes about our New York City tour. Check out what he has to say.
Glen from Saskatchewan talks about the NY See It All! Tour:
Karen wrote this on February 24:
Just a quick note to congratulate you on an excellent service. Please pass on our thanks to Tom who took us on the see it all tour last wednesday. This man is a credit to your company! He was enthusiastic from beginning to end and made the 5 1/2 hrs an absolute pleasure. Thank you OnBoard.
Tari from Omaha wrote this on February 16:
Hello Emma. Just dropping you a line to inform you that my family and I arrived safely back in Omaha, NE. I wanted to write and say thank you, thank you, thank you,……. Our OnBoard Tour was fantastic!! Robert was our tour guide and Dennis was our driver. They are an awesome team. Robert had such awesome historical information about all of the sites. He is a wealth of knowledge. He was extremely polite and answered all questions very sincerely. Dennis was always right where he was supposed to be and always very considerate. We were in New York for such a short amount of time and greatly appreciated being able to see so much in one day. We would have never been able to do that on our own. I also want to extend a thank you to you as well. I really appreciate you allowing us to change the date of our tour so quickly. You didn't allow unforeseen circumstances ruin our trip and we GREATLY appreciate it. We would book a tour again with OnBoard in a "New York Minute"! OnBoard ROCKS!!! We will be telling everyone how fabulous you guys are!!! Thanks again. KUDOS from OMAHA!!! Sincerely, Tari
Julie wrote on December 15:
Hi Ive just got back from New York, myself and 3 girlfriends went on your tour on sunday 7th december the day after we arrived. We are so glad we did, we could never of got round all these places in the 5 days we had and for that price. We loved the tour and have already passed on your website to many friends who are thinking of going to New York .
Our guide was called Trey , he was informative without boring us, funny without being corny, and straightforward when letting us know that him and the driver accept tips, which is less embarrasing then him telling us a sob story to get money.
He answered all our questions an even gave us places to go for food and drinks etc.
We had a straggler on our tour and at every stop was the last to get on the bus, Trey kept calm and showed great tollerance unlike the rest of us who were getting a bit fed up of them, he just reminded the bus that if we were not back, 5 minutes was the maximum he would wait, that did the trick. So in all the tour was fabulous, so keep up the good work and keep the prices as reasonable as they are now, hopefully we will be back and will do one of your other tours . Julie
Ruth & Ted from the UK said:
We went on your 5 1/2 hour tour on Friday 24th October. I just wanted to say how much my son and I enjoyed the tour. Shawn was great – really informative, with interesting information about all the things we passed and the stops we made. He was well informed and treated us as guests rather than just another bus load of tourists.
I would recommend the tour as an excellent introduction to New York. It gave us a good taste of the city, enabled us to get our bearings and gave us the framework to plan our own time in New York for the rest of our stay.
Please pass on our best regards to Shawn.
Here's what Royce & Amy L. said on April 22:
A few weeks ago, my wife and I were in NYC for our 5 year anniversary. Although we had been to New York in the past on separate occasions, it had been quite some time, and never together. We decided to take a tour with your company in order to get in as many sights as possible. Boy were we impressed! Robert was our tour guide for the 5 ½ hr morning tour. He had the right amount of interesting facts without being over-indulgent and he was funny enough without being corny. His regards and reverence for the events of September 11th were sincere, and heart-felt and unlike any story I've heard from that infamous day because this 9/11 experience came from an actual New Yorker.
I recommend this tour to anyone who is visiting New York City for the first time or the first time in a long time. Thank you for a job well done.
Here's what Stefanie from Australia said on January 30:
My mum and I took the NY See It All Tour while in New York recently and it was a wonderful experience.
We had seen some attractions in the city but this tour allowed us to see the entire city with ease and gave us an idea of what attractions and places that we wanted to see again. Thank you.
Our tour guide Sam and driver Mel were excellent and made the experience a very enjoyable one. We have recommended your tour to friends and family both from America and those visiting the city from overseas.
We had such a great day and were able to see the entire city and learn so much about each of the places we visited. (Especially from the Mayor of Strawberry Fields, that was very entertaining!)
Thanks again for such a great day and for giving us such great memories of New York.
Kind Regards, Stefanie (and Tineke) from Brisbane, Queensland, Australia.
P.S., Sam said he was in Law and Order, can you tell me which episodes he was in? We want to find out whether he is as good an actor as he is a tour guide! :P
Here's what P. Hansen from Minnesota had to say about our tour:
I had the pleasure of taking your 6-hour tour last week with my wife and two friends. I'll confess that when our friends were booking our trip I was in favor of doing the double-decker bus tours. Boy, was I wrong! I've taken many tours around the world, and yours was easily the best. I can't imagine a better overview of New York's main attractions.
Your shuttle bus was just as advertised and was driven by a real pro who took great pains to make the ride as smooth as possible. The free refreshments on board were very welcome on a day that was in the mid-nineties.
I particularly want to praise our tour guide. He had the wit of a comedian, the knowledge of a historian, the vocal strength of an opera singer and a warm, welcoming manner. The breadth and depth of his expertise was truly impressive. If there was a question he couldn't answer ? and answer in depth ? I must have missed it. I am a retired college history professor, so I have a good idea of the amount of work and dedication it took to possess that kind of knowledge.
Our friends said that they learned more about New York in those six hours than in the five years they had lived there in the 1980's. The next day we took your guide's advice and had the wonderful pizza at Grimaldi's in Brooklyn and worked it off by strolling back to Manhattan over the Brooklyn Bridge at sunset.
Thanks again for a most memorable day, and keep up the good work!
Here's one of our favorite comments:
On 10/5 my husband, Carl, and I took the party shuttle with [your tour guide] Richard. Carl shot [this] spectacular view of the Statue of Liberty at sunset, between the rigging of the schooners down at the seaport. [Richard] is a great tour guide – don't ever let him go. We would not mind having him as a guide again if we ever get to NYC and I have already told the hotel to recommend him and your tour.
– Carl and Kathy Matuszek
Linda M. wrote:
I have no questions. I took your tour yeasterday. I just wanted to let you know that it was wonderful. You sent us the BEST DRIVER AND TOUR GUIDE in the world. They were wonderful. My mother has a very hard time getting in and out of vans and they were very very helpful with her and made the tour the very best it could have been. I would highly Recommend your service and the driver and tour guide we had.
Thank You very much for a Great time in New York.
Melrine L. from Florida wrote:
I was in New York this past weekend with a group of 7 from Vero Beach, Florida and we took your tour and we have to let you know it was the best tour we have ever had. The guy's name was Sam and he was awesome……What a remarkable job!!!!!!!!!! he did.
"The Geriatric Express" wrote on September 15:
Dear Sir,
This is just a short note to let you all know what a valuable employee you have in Robert. He was our tour guide for 9/12/07 and was absolutely wonderful! He was very knowledgable about the city and really made it a wonderful day for us. It is definitely a trip we would recommend to others. He really made our day!
Sincerely,
Geriatric Express (Kathleen, Barbara, Pat, and Emma)
Mike & Shirley from Kansas wrote on July 9:
We recently took the 5 1/2 hour New York City day tour. It was excellent. Our driver was Ronnie and the tour guide was Laurie (Lori?) They were both very friendly, knowledgeable, and professional. We purposely planned for the tour on our first day visiting New York in order to revisit areas later once we became acquainted with them on the tour. It was all and more than we had hoped for.
Thanks for a super day.
Chris, Deb & Zach V. wrote on July 9:
We just wanted to thank you for a wonderful tour. Luke was our tour guide and Jihaida was our driver. Both did an absolutely amazing job!! For first time New York tourists, this was a great way to see the city. Chris suffered a stroke a few years ago and is a little slower in his gait. Luke was very attentive to his needs and always made sure he was doing ok. Because of Chris' needs we would have never been able to see as much as we did in the amount of time we were there!! Thanks again. We will recommend this tour to everyone we know.
Cyndee from Tennessee wrote on June 27:
Here is some feedback from our recent NYC Party Shuttle Tour…Fabulous! Our driver, Michael was precious (and a very good, calm driver). Our guide, Luke, was so peronsable AND knowledgeable that we all agreed we couldn't have made a better choice for our first visit to NYC. We were 3 girls (daughter, mom, grandmother) on our first trip to the Big Apple and a little apprehensive about finding our way around. But after we took this tour, we felt confident in spreading our wings! We spent many hours exploring the city on our own and we had a blast recognizing places we'd been told about on our tour!
And if your guides ever think we aren't paying attention, think again! We learned soooo much and we're trying to share all that delicious information as we show all of the great pictures we took on the tour.
FYI- we stayed at Days Inn in North Bergen, NJ so we wouldn't have to drive in NYC and they have a very nice driver who brings guest all day long, back and forth to 42nd street. That's how we came to meet our guide and driver from the hotel.
Give Micheal and Luke both raises! We will definitely return to NYC for weekend trips in the future and we will definitely recommend New York Party Shuttle Tours to anyone who asks!
Thanks Guys!
Check out Cyndee's pictures from her tour.
Ronald & Donna from Tulsa, Oklahoma wrote:
We just wanted to comment about the NY City tour that we took on June 27th. We chose New York Party Shuttle because of the positive comments by some of your tourists on your website, as well as the great explanations of the tour on your website. The comments from other tourists referred to a great tour guide, Rob (Robert). Not until the day of our tour, did we realize we were fortunate enough to get him. He was great –personable, knowledgeable, and, most of all, he was so passionate about the history, landmarks and events that took place in NYC. Seems that all the tour guides may be just as qualified, but we were delighted to have him. We were also very impressed with the driver — his ability to maneuver around the traffic and get us everywhere with ease (unfortunately, we don't remember his name). The cost of the trip was worth every penny! Thanks so much for doing such a great job for us!
On June 3, 2007, Tony Shuttleworth from the UK wrote:
Just to give you some feedback from our tour with you on 13th May. This was our first visit to the US and obviously to NY. We'd arrived pm the previous day and booked your tour as a way to make sure we saw all the sights and then decide what to do with the rest of our visit. We were not disappointed!! Frank and Matt were superb – taking us to all the sights we had wanted to see and giving us lots of info and time to spend at many of the more interesting. We asked lots of questions – surely Matt would get fed up with them – but, no, he was patient, friendly and knew all the answers! The big bonus – it was a Sunday and so less traffic to delay the tour – more time to spend seeing your great city. A great tour, great value for money, and a great way to see the city for the first time. It's a must for any visitor – we'll recommend it to anyone we know who's visiting NY in the future. Thank you guys!!!!
On April 14, 2007, Colin and Jackie Baker wrote:
Would just like to thank Joe and Victor for a superb tour of Manhattan on Thursday, 5th April. The weather was freezing but the entertaining and comprehensive info and warm shuttle made the trip very enjoyable. By the end we knew more about Manhattan than our son and his girlfriend who live in New York! The tour provided a perfect orientation of the city to kickstart our holiday and we would heartily recommend it to everyone. Many thanks.
On April 2, 2007, Annette said:
Took your day tour, 4 ladies in total, on Saturday 24th March. Our tour guide was Luke and driver was Millie. I just could not praise the tour highly enough – did a lot of research before we booked New York Party Shuttle Tours and so glad we did so – as Luke just brought New York to life for us. It was our first day, and first time, in New York so really got a great feel for the history, culture, people, heritage. Next day we were able to go back and spend more time in the places we really wanted to see again. Next time we return will be booking the Uptown and Harlem tour – can't wait! Thanks to Luke and Millie for a perfect start to a wonderful joyful experience in a great city.
Mike & Denise wrote:
"Just wanted to thank you for such a great tour. We had the opportunity to experience your tour 3/27/07, and it was fantastic. We couldn't ask for a better, comprehensive experience on our first day in Manhattan. Our tour guide was very informative with details we would have never known. Kudos to Felicia, our driver, who manuevered with the smoothness of a pro. We will undoubtably recommend you to family and friends. Thanks!"
Diane said:
"First time in the Big Apple and we wanted to make sure we saw as much as possible. I chose NY Party Shuttle Tours after reading the comments and also seeing all of the sights you list. The bus turned up on time, was very clean and cool, refreshments were available at all times and everybody loved Robert our Guide. Being a NYC native he was extremely knowledgeable and very amusing with his anecdotes but also both he and the driver (a young lady with the patience of a saint) were both very courteous. I cannot recommend NYC Party Shuttle Tours enough, I would strongly suggest you do this on your first day in the City as it gives you your bearings of where everything is and makes a huge city a little less daunting. Thanks guys – in NYC terms – you were AWESOME !"
Bob & Carol from Rochester said:
"Three of us took your 5 ½ hour 10AM tour on 8/31/06. We could not have been more pleased. As your online info states, why hop on and off a bus when you can have your own tour guide go with you. Our guide, Missy, was excellent. Not only did she tell us what we were looking at but she had many additional interesting details we'd never have gotten on our own. She was very courteous, answered any and all questions and took the time to walk us through many of the sights. The driver, Linwood, was also excellent. He handled that bus so well we never were jolted and barely knew we were traveling through congested streets."
Lance & Miriam from Greenbay wrote:
"We just wanted to tell you what a wonderful time we had on your tour. It was my husband's first time and my second time in New York and we were both thoroughly impressed by your tour. Luke, our tour guide, was so knowledgable about the city I wish there was a book I could have purchased with all the info he gave us. I wish I could remember everything he said. Jahaida did a fantastic job of driving the bus through the city. We were very pleased with the amount of sightseeing that was done in 5 1/2 hours and the value was excellent. We would recommend your tours to everyone and will probably take another one ourselves when we come back to visit. Thank you for all the wonderful memories, we have fallen in love with New York City."
Jeff Cobb from Houston said:
"I just wanted to complement you on the great tour. My wife and I took the tour last Friday (July 21) and had an absolutely fabulous time. Our tour guide, Luke, was fantastic. The fact that he grew up in the city and could combine his own personal experiences with his excellent knowledge of the history of NY made him all the better as our guide. He was incredibly helpful, willing to answer any question and entertaining to boot. Luke's emphasis that we spend time in St. Paul's chapel (the current 9-11 memorial) was truly appreciated as we had no idea to even go in the chapel. The power and impact of our time spent in St. Paul's chapel will never be forgotten and we probably would have missed it if not for Luke."
Margaret Dean from Arizona wrote:
"We recently enjoyed a wonderful tour with Robert as our guide. My children (ages 10, 15, 18, and 18) were captivated by the sights and insights provided. Thanks for a great NYC experience."
Sandy K. from Upstate NY said:
"I just had to let you know what a great time we had on your 3:00 tour on Monday July 10, 2006. My father was visiting from Joplin, MO and I'm from upstate NY (Orange County). I wanted to make our one day trip into New York City really worthwhile, and knew from your website and presentation that I had made the right choice when I booked the tickets the night before. That was proven when we met the shuttle for our tour. The greetings from everyone really made us feel welcome.
Milly was an excellent driver (nice to see a lady driving!) and Robert was the best guide I've ever had the pleasure to take a tour with. He truly personalized the tour for each and everyone of the guests! I thank him for his patience when my dad would lag behind, and the refreshments were a nice touch to help us keep our stamina!
Thank you again for helping me make such a memorable visit for my father!"
Mary Walters from California said:
"I just wanted to email you and say what a wonderful time we had on your shuttle last Wednesday, July 5th. Our tour guide was Robert and the driver was Ronnie. They were very knowledgeable and we were so glad to book a tour with a smaller group. Thank you for making our first visit to NY City a fabulous experience."
Kittrin from Florida said:
"What a great tour this was. We visited over Thanksgiving and opted to take this tour and are so glad we did. The bus was warm and totally enclosed not like the "Red Buses". Ike was the best tour guide with a sense of humor and also had great patience for our stragglers. I would highly recommend this tour to anyone who visits NY! Thanks Ike!"
Shawn from Arizona said:
"My friend and I took your NYC tour last week – 11/16/05 – and we were AWESTRUCK!!! Our clean, comfortable bus (with great windows for seeing the sights!) was at the designated location and right on time…"
Jim & Helen Oare from Memphis, Tennessee said:
"…The New York Party Shuttle is definitely the way to see NYC for the first time… The bus itself was nice too…not one of those double-deckers where you are out in the elements."
Claud from Dublin, Ireland said:
"…I have to say we had a great time on the shuttle, especially the "little walks" off the bus we went on. We would have spent a couple of days on those red buses trying to see all the same sights…"
"The Girls from Baltimore/Washington DC" said:
"NY Party Shuttle could not have been easier…as soon as we sat on the bus and watched the red buses go by we instantly knew we had made the right choice. There were not any extra seats."
Lisa from Erie, Pennsylvania wrote:
"…We really were able to see so much of the city in such a short period of time. The shuttle was intimate and comfortable. …It was the perfect mix of a walking and sitting tour…"
Jean M. Olsen wrote:
"It was fantastic. …The safety of having a guided tour was a big plus for New York Party Shuttle. Didn't just get dropped off and picked up. [The tour guide] was with us every step of the way."
Jay & Tracy from England wrote:
"We came on your tour … and couldn't recommend it more highly."