Christmas Lights In New York City
See the Holiday Lights in New York City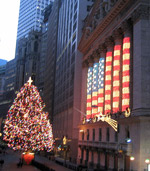 Take our NY SEE THE LIGHTS! Tour between November 30 and January 5, and see the holiday lights of New York City.
During the Holidays, our night tour converts to the best holiday lights show in New York City.
Tour Guides Hop Off With You
Other companies keep you on the bus the whole time. Our tour guides hop off the shuttle with you and show you Christmas the way New York does it.
Christmas Window Displays
We'll show you Christmas window displays at several of New York's top stores, including FAO Schwartz, Lord & Taylor, and the top stores on 5th Avenue. You'll also see Macy's Department Store, home of the Macy's Thanksgiving Day Parade, and the other shops at Herald Square. We'll take you to see the extravagance.
Times Square
See the lights of Times Square. More neon per square foot than anywhere else in the world! What a great place to be during the holidays.
Lincoln Center and Time Warner Center and Columbus Circle
Drive through Columbus Circle, at the Southwest corner of Central Park, and see the horse-drawn carriages, the Park itself, Time Warner Center, and ultimately world-famous Lincoln Center for the Performing Arts.
Central Park and the Central Park Zoo
Drive through Central Park and see the Central Park Zoo.
Rockefeller Center Christmas Tree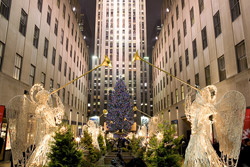 Drive by Rockefeller Center and see New York City's most famous Christmas Tree. The Christmas tree that adorns Rockefeller Center is typically a Norway Spruce, and the one chose is usually between 75 and 90 feet tall and proportionally wide. The tree is donated by someone who grew it in their yard. The people who donate the tree don't get paid for it, but they have the pride of knowing that their tree will be displayed before the world.
The Rockefeller Center tree is decorated with over five miles of lights. Plan to go back and visit the tree after your tour. Rockefeller Center is too crowded for our tour to stop there, but you will see it from the bus.
Holiday Market at Bryant Park
We'll make a quick stop to see the skaters and the Holiday Market at Bryant Park.
Truly Experience Christmas in NYC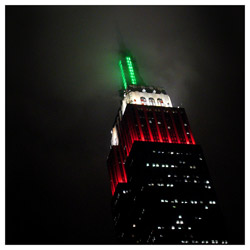 Other companies may show you some of those sights, but doesn't it make more sense to take a tour with the company that will escort you through the attractions, educate you about their history, and really let you experience them? OnBoard New York Tours is truly the best way to see the holiday lights of New York City.
Just book a NY SEE THE LIGHTS! Tour during the holidays and you'll see New York City at its finest.
NYC Christmas Lights Tour Itinerary
Time Warner Center
Lincoln Center
Bryant Park
Lord and Taylor(Fabulous 5th ave) Windows
Macys Windows
Columbus Circle
Drive thru Rockefeller Center to see The Tree!!
Radio City
5th Avenue
Rockefeller Plaza
Radio City
Greenwich Village
Canal Street
Manhattan Bridge
Williamsburg Bridge
Chinatown
Hudson River
East River
Times Square
Monday – Thursday: $69.99

Friday – Sunday: $79.99
Ready to book? We guarantee you'll be glad you chose OnBoard Tours for your NYC visit. You can conveniently book now online (by hitting the big red button) or call us at: 212-852-4821.